This post is also available in:
Latest update: 12 May 2023
Laguna Bacalar in Mexico is a piece of paradise on earth. Inhaling my first breath of warm but fresh air in Bacalar, I already know: I've come to the right place I feel relaxed, I feel light, and feel at home in Mexico.
I don't know what it is, but there's just something super relaxed about Bacalar. Bacalar is a breath of fresh air after places like Playa del Carmen and Cancún. Luckily, mass tourism has not yet reached Bacalar – but it does seem to end up on more travel itineraries. Logically. Bacalar exudes a slight hipster atmosphere, with something artistic and a good dose of social and sustainable initiatives. Combine that with the lake's crystal clear waters, and I'm sure you too will never want to leave. So, what can you do in Bacalar?
Tip 1 – Inhale that Bacalar vibe
As I said before, Bacalar has a unique atmosphere. I think the words chill and calm describe it best. No one is in a hurry because of the smothering heat. Many people spend their days relaxing by the lake and cooling off in the water or at one of the many cafes and restaurants. There is no nightlife in Bacalar. It is the ideal place to recover from all the impressions I have gained in Mexico so far. You'll quickly find your way around: the tourist center is tiny and exists of the central square, the surrounding streets, and the waterfront.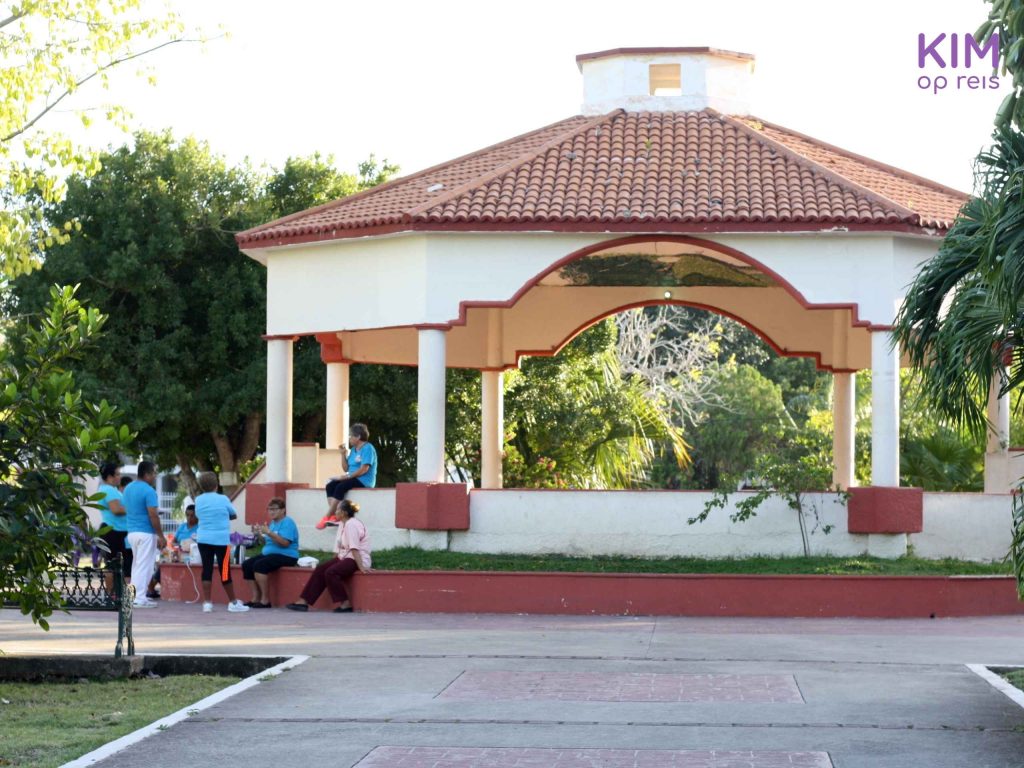 Local culture in Bacalar
Bacalar is more than just hip. It's also very Mexican, with a small market, mini-grocery stores, bank lines on payroll day, local restaurants with plastic chairs, and people cycling loudly through the streets selling their bread or vegetables. I also see the Mennonites for the first time, who mainly live in Belize. I have to do my best not to stare after them because they stand out with their white skin, language, and traditional clothing. Maybe you know the Amish? They split from the Mennonites to adopt a stricter belief system.
Tip 2 – Laguna Bacalar: the lake of 7 colors
The laguna is the highlight of Bacalar. Enjoy the water from the waterfront at one of the public entrances or your hotel. Take a refreshing dip or try out some fun water sports. Lake Bacalar is a freshwater lake no less than 60 kilometers long. The color is bluer than blue; this is due to the minerals. Fifteen years ago, people still drank directly from the lake. Unfortunately, you can't anymore. It has become too polluted. The locals do their best to maintain the lake in the best possible condition. That is why from the end of 2018, no motorboats are allowed on the lake anymore.
Tip 3 – The best places to sleep in Bacalar
Since it is love at first sight between Bacalar and me, I stay longer than planned. That also means that I changed hotel or hostel a few times , but I did stick around downtown. There are many more options on the water, but outside of the center, those are especially interesting if you are traveling by car – not so much for the backpacking crowd. The choice is enormous in Bacalar, so check out the four options I tested for you.
Tip 4 – Never not eating in the restaurants
In Bacalar, I find a delicious mix of Mexican and Western food. My meal at Bote de Leche was probably the best of my trip through Yucatan, Chiapas, and Quintana Roo. I have listed my restaurant tips in Bacalar for you.
Tip 5 – Go sailing or paddleboarding on Lake Bacalar
Many people discover the lake with a sailboat, a catamaran, a canoe, or a paddleboard. Book sunrise and sunset SUP tours online or at The Yak Lake House. Whether it goes ahead depends mainly on the wind. I had terrible luck during my stay, and the tour was canceled twice.
Fortunately, I was able to discover the lake by sailboat. In 2018 Bacalar Sailing offered a 3 to 4 hours sailing trip along underwater cenotes, the pirate channel, and a swimming spot for 600 pesos per person. But there are now many more providers. So compare!
The weather on the lake can change just like that. One moment I'm happily applying factor 50; the next, I'm hiding from the rain under a piece of tarpaulin. On the boat, I see the color of the water also clearly changing; at the cenote, the blue is almost black, and at the pirate channel, it's crystal blue.
Do you also want to sail? Then I advise you to check with other organizations as well. Bacalar Sailing disappoints me a bit: it is a nice trip, but we leave an hour late, and the snorkeling equipment is incomplete.
Tip 6 – Discover street art in Bacalar
Street art is very popular in Mexico, also in Bacalar. Just start walking, and you will come across several murals. To learn more about them, visit Bakalarte's Facebook page.
Tip 7 – Dive into the culture with the Free Walking Tour
Bacalar's Free Walking Tour is easily the best free city walking tour I've done in Mexico. Bacalar is not a place with hundreds of sights, so the Free Walking Tour focuses much more on culture and local initiatives. Very cool! This is how I find out what a close-knit community Bacalar is, how much emphasis is on sustainability, and how many social initiatives there are. Guide Claudio regularly expresses his respect for the Maya way of life. They knew how to treat the earth kindly; we seem to have forgotten that now, he sighs.
One of the two writers' houses in Mexico is located in Bacalar. Artists can stay here if they can demonstrate the importance of their project and if they will do something for the people of Bacalar. For example, giving workshops or hosting an exhibition. You can also inquire about the tour via the Facebook page. The walking tour starts at the Yak Lake House and then picks up people in the plaza at 10 am. Well, 10 am Mexican time. Patience!
Tip 8 – Swimming in Cenote Azul
Cenote Azul is about 3 kilometers from the center. Quite a walk, but some colectivos are driving up and down. It's not a cenote like I've seen in Tulum; it actually reminds me of a big swimming lake. One of 90 meters deep. There is a restaurant right next to it. As far as I'm concerned, this is not a must-see, but it is worth mentioning. 😉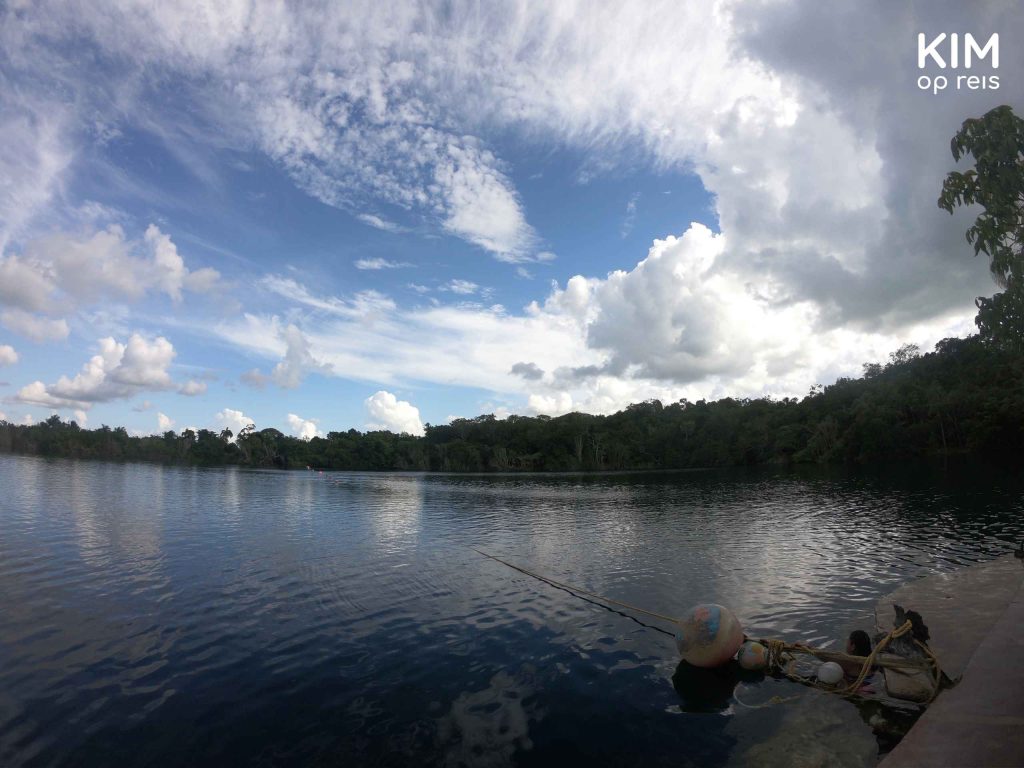 Tip 9 – Snorkeling at Los Rápidos
Los Rápidos is a place on the lake where you can 'drift snorkel'. That means you splash in the water, put your head underwater, and let yourself be carried away by the current. If you have your own snorkel, bring it with you as there is not always equipment for rent – which is why it didn't work out for me. So definitely buy a snorkel mask (at Decathlon or Amazon) for your Mexico trip! And check out this video for a good impression:
More Mexico inspiration?
Helpful links for your Mexico trip
Some of the links on this site are affiliate links. If you buy something through these links, I might receive a small commission.
First published: December 2018. The article has been updated since.