Read in:
Latest update: 14 February 2023
How close? Extremely close. In the cooling waters of Curaçao, you not only have about a 100% chance to spot a turtle, but you can also view them extensively from just a few meters away. I'll tell you where to go.
Where do you find turtles on Curaçao?
You can find yourself some turtle spotting security near Klein Curaçao (in theory) or at Playa Grandi (in reality). You've also got a reasonable shot at either Playa Lagun or Porto Marie. You can even encounter them at the other beaches of Curaçao, but if you want to see them for sure, I recommend Playa Grandi.
Snorkeling with turtles near Klein Curaçao
Bij Klein Curaçao heb ik pech. Ik kan geen enkele schildpad vinden en eigenlijk vind ik het snorkelen hier ook niet zo boeiend. Er is nauwelijks koraal en het aantal vissen is beperkt. Nu ben ik ook wel verwend door snorkeltrips in bijvoorbeeld Belize en Mexico hoor. Maar pas als de bemanning van de Mermaid-boot (waarmee ik naar Klein Curaçao gevaren ben) de lunchrestjes in het water gooit, komen de vissen tevoorschijn. Nog steeds geen schildpad. 
I do find a turtle nest on Klein Curacao, neatly marked so that no one damages it. When I did an internship in Aruba years ago, I witnessed a nest of turtles hatching. With a group of people, we admired the spectacle for hours at a distance. Someone even drove up and down to the KFC or McDonalds to feed us all with supper. I even refused to go home to get my camera; I didn't want to miss a minute of it. All those little turtles finding their way to the water, it was magical.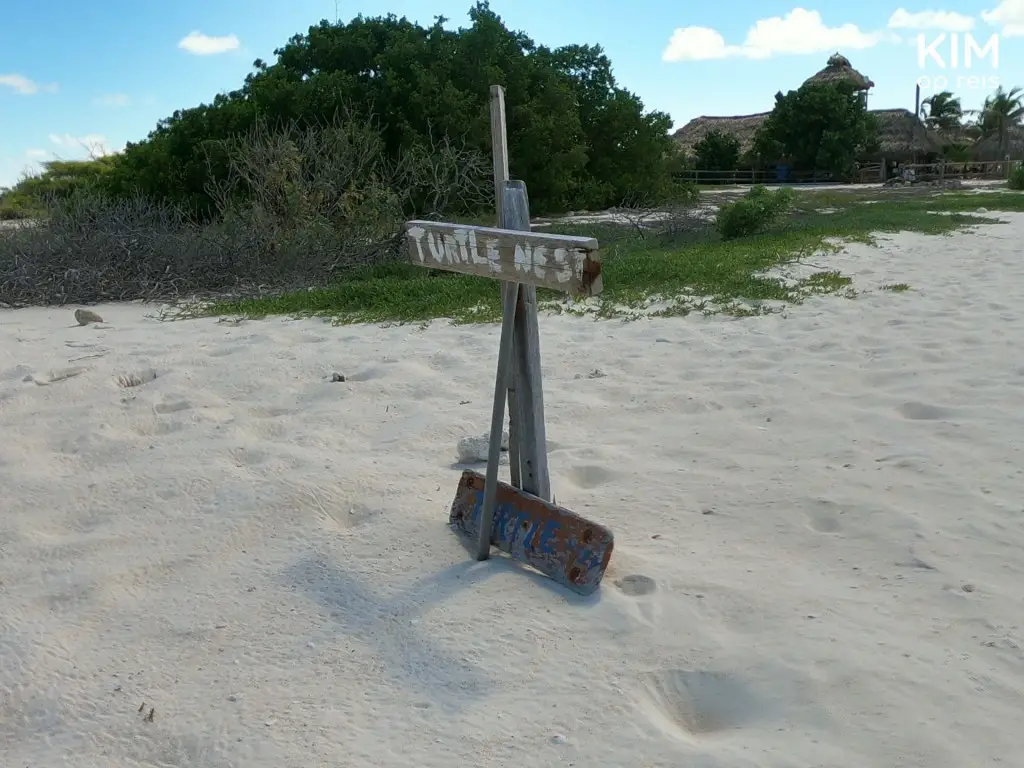 At Klein Curacao, the turtles only show themselves when we are back on the boat, ready to leave. I hadn't quite imagined it that way, but I still can't take my eyes off them.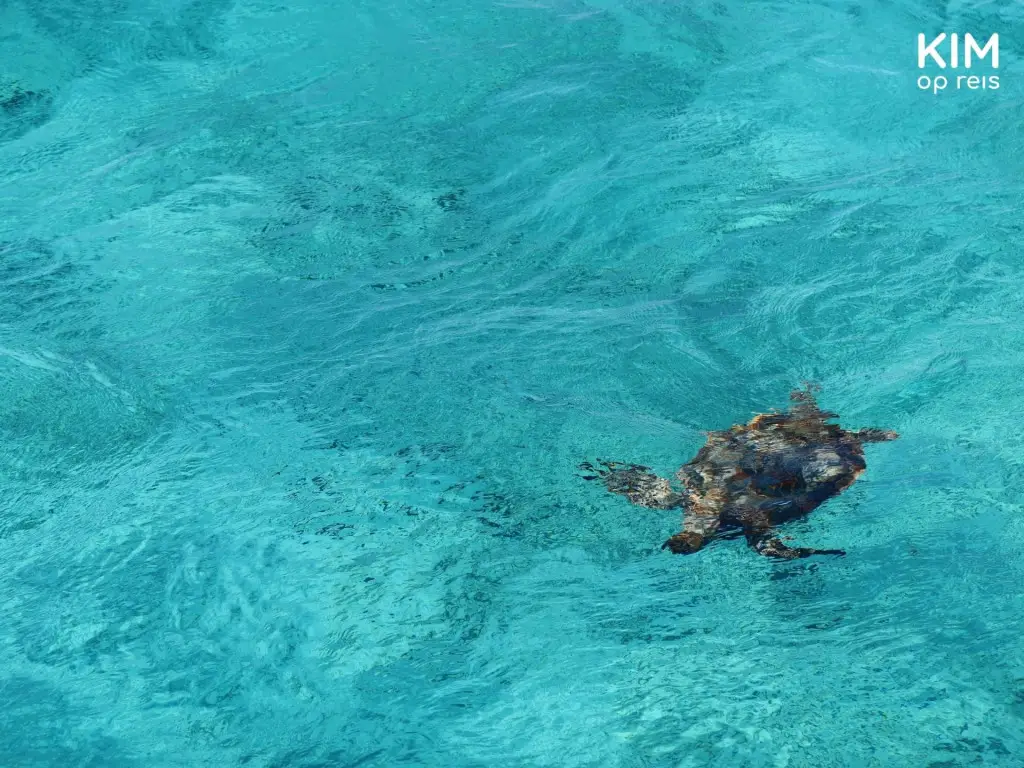 Ennuh, hoewel ik dus pech had, betekent het niet dat het onmogelijk is om schildpadden te spotten bij Klein Curaçao hè? Waag zeker een poging, want het is een leuke dagtrip! Ook zonder schildpadden. 😉
Tip! Je kunt op veel plekken een snorkelset huren, maar vaak krijg je vrij oud materiaal. En, honestly, de snorkelmaskers van tegenwoordig zijn zo fijn! Als je van plan bent veel te snorkelen op vakantie, is dat echt een goede investering. Koop een snorkelmasker bijvoorbeeld bij Decathlon.
Snorkeling with turtles at Playa Grandi
Playa Grandi, or Playa Piskado, is all the way in Westpunt. It is not a particularly attractive beach, and there is a lot of activity. There is a diving school, chickens roam the parking lot, I count quite a few fishing boats, and a cheerful beach bed rental company welcomes us immediately. Two beds with a parasol and table cost 20 guilders. The man points to the places in the water where we have the best chance of spotting a turtle, and he watches our bags for free. That's great: my best friend and I can snorkel together without worrying about our stuff.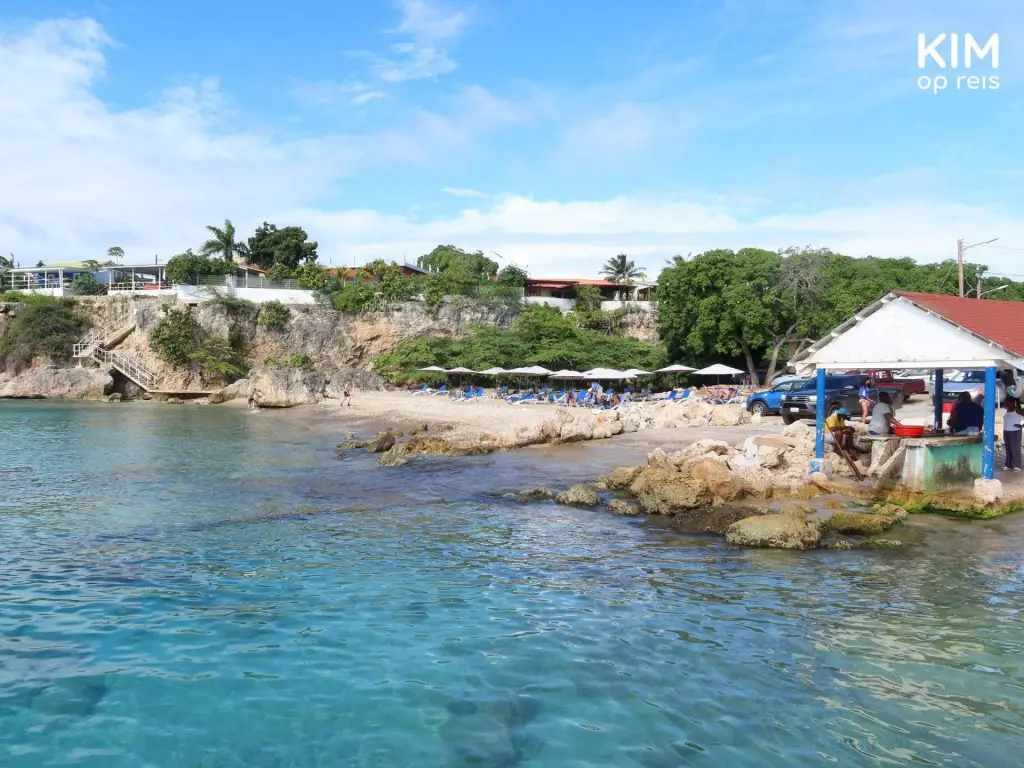 On the waterfront, along the pier, is a small, sheltered workshop for the fishermen. Local fishers bring their catch here and clean the fish immediately. What's left, they throw back into the sea. And that is exactly why you have a turtle warranty here!
Bij de pier, aan het eind, gooien de vissers hun visafval het water in. Hier komen de schildpadden op af. Waar ik bij mijn eerste snorkelpoging op Playa Grandi nog mega-enthousiast achter een schildpad in de verte aan zwem, blijken er op dit punt gewoon vier te genieten van een makkelijke snack. Heel chill, heel rustig. Ze zijn gewoon lekker aan het eten, zwemmen af en toe een stukje weg en keren weer terug. De schildpadden komen zo bizar dichtbij! Magisch! 
Natuurlijk is het zo dat je met een groepje mede-toeristen rondom de schildpadden ronddobbert. En natuurlijk is het zo dat daar altijd iemand bij zit die het nodig vindt continu ieders zich te blokkeren omdat 'ie de beste Instagram-selfie wil, en nog erger: zelfs de schildpadden aanraakt. Doe dit niet – dit is ECHT niet goed voor de schildpadden, qua stress, maar je kunt ze ook nog eens ziek maken met de gevaarlijke stoffen die in je zonnebrandcrème zitten.
Maar, ondanks dat het soms even druk is en niet iedereen zich gedraagt, is het echt prachtig. Heb je een beetje uithoudingsvermogen, dan ben je op een gegeven moment bijna alleen met de schildpadden omdat de rest al is afgedropen. 
You can find Playa Grandi here.
Als je het leuk vindt, kun je ook een volledig verzorgde tour doen en schildpadden spotten. Deze bijvoorbeeld.
Is swimming with turtles scary?
Ik ben geen held in het water. Verre van. Waar sommige mensen de onderwaterwereld enorm rustgevend vinden, zie ik overal gevaar. Maar de kristalblauwe zee van Curaçao is bij Caraïbische temperaturen zo uitnodigend dat ik m'n watervrees met enthousiasme vergeet. Zeker als ik de kans heb om met schildpadden te zwemmen. 
The turtles at Playa Grandi are anything but shy. So they swim right past you, sometimes they even swim straight towards you. I sometimes find that a bit scary, but not scary. I actually can't get enough of it. I take numerous pictures and easily float around the turtles for an hour.
Not threatening, but threatened
De schilpad is misschien wel de minst bedreigende diersoort in de oceaan, maar het is wel een bedreigde diersoort. De rotzooi in zee is een groot probleem voor de schildpadden, ze eten het plastic op, maar ook hun nesten worden door mensen leeggeroofd. Je leest er alles over bij het Wereld Natuur Fonds.
Tips for safe snorkeling with turtles
Snorkeling with turtles on Curaçao is so beautiful and that's why everyone wants to enjoy it as intensely as possible. You can, at a distance. Treat the turtles with respect or they will stay away or even get sick.
Niet aanraken! Zo'n schild lijkt misschien keihard, maar een schildpad heeft gevoel in zijn schild. Ze vinden het helemaal niet fijn om geaaid te worden. En zeg nou zelf, als jij lekker aan het zwemmen bent, wil je toch ook niet ongevraagd aangeraakt worden? Bovendien kan door die aanraking je zonnebrand op de schildpad komen, en dat wil je niet want:  ⬇
Smeer geen of duurzame zonnebrand. Schildpadden, net als de rest van het oceaanleven, kunnen niet goed tegen de stofjes en chemicaliën die in onze 'reguliere' zonnebrand zit. Ze kunnen er ziek van worden. Gebruik daarom een duurzame zonnebrand als je de zee in gaat. 
Ruim je afval op. Als je op het strand wat lekkers meeneemt om te eten of drinken, gooi dan altijd je afval weg. Neem het mee terug, zoek een afvalbak op, maar laat het niet liggen. De resten komen in de zee en het plastic is een groot gevaar voor de schildpadden.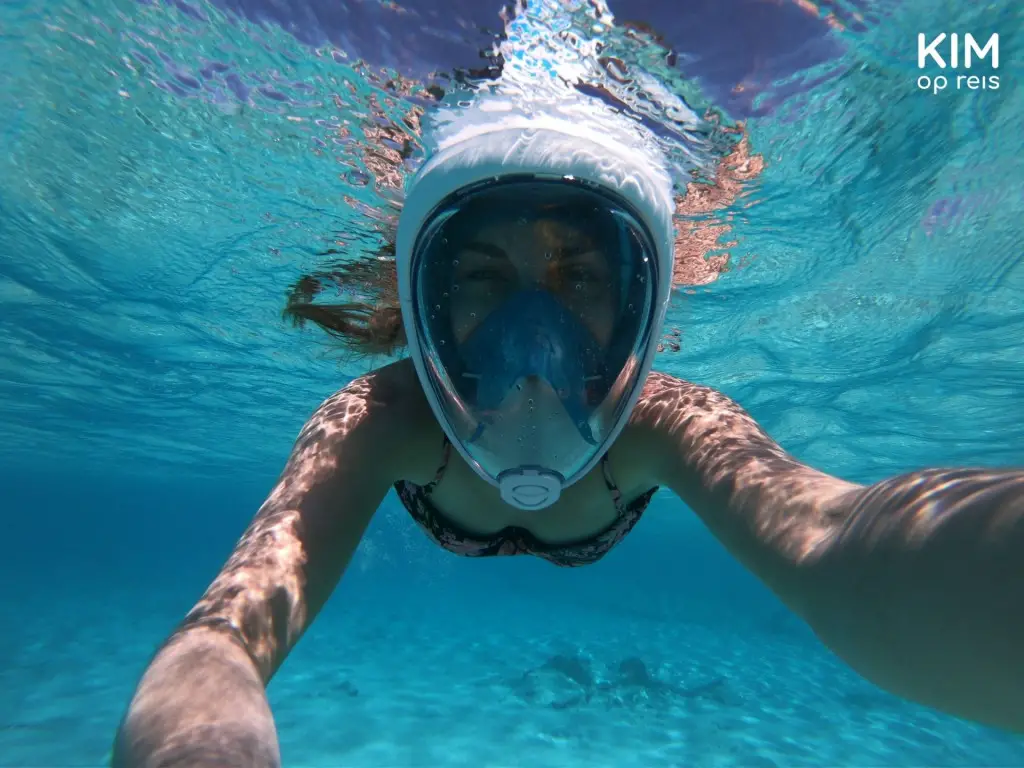 More Curaçao travel tips?
Useful links for your Curaçao trip
Some of the links on this site are affiliate links. If you buy something through these links, I might receive a small commission – at no extra costs to you of course!
Voor het eerst gepubliceerd: januari 2021. Daarna geüpdatet!